Avonturenpark Hellendoorn
The ideal family outing!

Visiting adventure park Hellendoorn with the whole family: the best family outing!
Adventure park Hellendoorn is a real family amusement park with loads to be discovered! Hidden in the woods of the Sallandse Heuvelrug with over 30 top attractions and shows: two splashing log flumes, three spectacular roller coasters, a swing ride, laser game, Dreumesland for the very little adventurers, an outdoor slide park with 11 water slides and lots more!

Two new attractions in 2019
In 2019 the range of attractions has been expanded by two new facilities. The first one is free fall tower Baba's Ruimtereis in Dreumesland, next to the Bella's Swingpaleis which opened in 2018. The second new attraction, Fort Knalkruit will be an explosive ride for the whole family: after 30 years the bumper cars are returning! With these new attractions the adventure park has even more to offer to the young and old!
Highlights
- more than 30 attractions
- new facility in Dreumesland in 2019: free fall tower Baba's Ruimtereis, takes you into space!
- new attraction in the Pirate area in 2019: explosive attraction Fort Knalkruit for the whole family!
- In 2019: a large number of innovations
- new in 2018: Bella's Swing palace in Dreumesland
- a friendly atmosphere, small distances between the attractions, smoke-free environment and short waiting times
- A safer and care-free day out
- Free admission to the greatest shows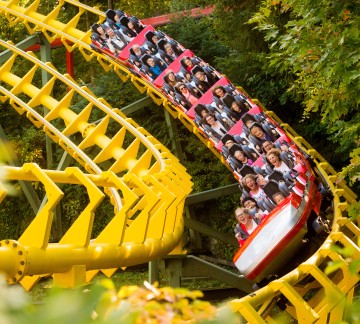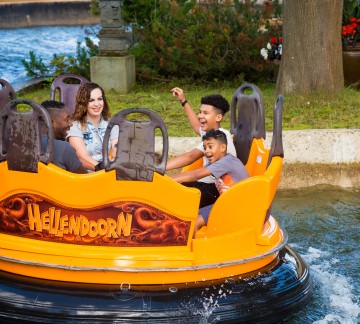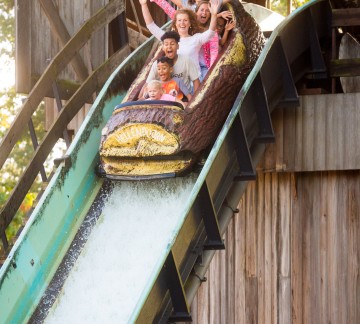 Campsites at the beach in North Holland::
Noorder Sandt (600m), Sint Maartenszee (800m), Tempelhof (1km)