3x Glamping on the Veluwe and in the Betuwe
Gelderland has such an incredible variation in landscapes! Glamping is a great surprising experience both on the Veluwe as well as in the Betuwe. The really old forests, sand drifts and heathland on the Veluwe and the playfully swirling streams and cheerful fruit blossoms in the Betuwe.
You will certainly not get bored in this area! But the luxury Glamping accommodation can definitely also offer something for everyone, with all possible comforts. We have summarised them below, making sure the choosing and booking is also a completely relaxing experience.
De Rotonde in Enspijk (Betuwe)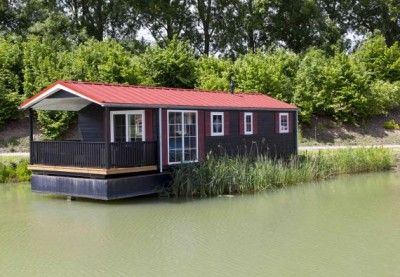 Glamping on the water! Campsite Rotonde can be found in the Betuwe and can offer 4 person water chalets. This will make your Glamping experience even more unique. You can enjoy fantastic views across the lake from your covered terrace (10m2) along the water, whilst the (grand)children can have fun in their little boats or enjoy a lovely swim. The terrace is safely fenced off for the very smallest of children. The water chalet Waterchalet 7 or Waterchalet 8 can offer you top level Glamping in the Betuwe! The cosy 40 m2 living room has a fully equipped, half open kitchen. The bedrooms come with fantastic box spring beds (1 x double box spring and 2 x single box spring) and there is a spacious shower too. The central heating system means the water chalets are also perfectly comfortable on the somewhat colder days.
Glamping in the Betuwe can offer you something fantastic every single season!
Ackersate in Voorthuizen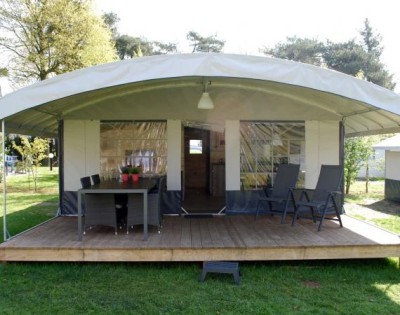 The name says it all, the Tent Villa certainly isn't just a tent.
The Tent Villa is Glamping with that real camping feeling and offers an impressive 3 bedrooms (1 x double bed; 1 x bunk bed and 1 x 2 single beds), a bathroom with a private shower, wash basin and toilet, a cosy lounge area and a fully equipped kitchen. Relax on the covered terrace after a long walk through the Veluwe forests.
You can also enjoy those lovely long evenings of your well-deserved holiday out on the terrace. The Tent Villa's total surface area is an impressive 60m2 (10 x 6 meters), of which the tent itself is 45m2 and the covered terrace is 15m2.
Bosgraaf in Lieren (Beekbergen)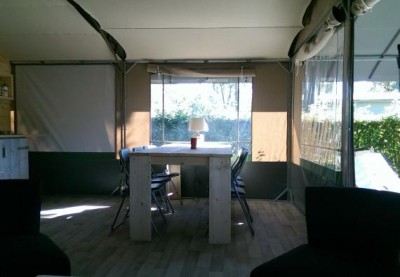 Enjoy a Glamping trip in a super cosy and spacious tent villa for 6 people with an L-shaped lounge measuring an impressive 18m2!
You can easily reach the National Park De Hoge Veluwe from Campsite Bosgraaf in Lieren and Palace Het Loo's glamour is just a stone's throw away. You will have made an excellent choice for your very own 'holiday palace' with this 60m2 tent villa, 15m2 of which is the terrace. There is 1 bedroom with a large double bed, 1 bedroom with a bunk bed and 1 bedroom with 2 single beds, a fully fitted kitchen and a bathroom with a toilet, wash basin and shower.
Book and discover whether this Glamping accommodation might be just the thing for you.