Visit Zeeland for that real Glamping feeling
Fancy camping in luxury on one of Ardoer's holiday parks? The holiday parks in Zeeland can offer a variety of different types of glamping accommodation. You can, for example, rent a luxury beach house at Ons Buiten, a comfortable lodge is waiting for you at Pekelinge, or would you prefer to do some 'real' camping? Then this is possible too in the Delta tent. The Zeeuwse Kust campsite has a beautifully spacious beach lodge available to rent. Would you like to experience this level of luxury? Then make sure you book your glamping holiday online now!
Pekelinge in Oostkapelle
There are two different ways of Glamping at Campsite Pekelinge, you can either spend time in the Delta Cabin or camp in comfort in the lodge. The unique Delta Cabin combines the best of both worlds, it's as cosy and attractive as a real tent and sufficiently spacious and comfortable for a maximum of 6 people. Experience that real camping feeling with a little dash of luxury, as the bathroom has been luxuriously furnished and the kitchen even includes a dishwasher! The lodges will also allow you to experience that real camping feeling, but you won't be left wanting for anything where comfort is concerned. The double doors will allow you to live both inside and outside. The luxury is also evident in the fully tiled bathroom, a kitchen with a dishwasher and two televisions.
Come and try out this glamping and enjoy an extraordinary holiday!
Zeeuwse Kust in Renesse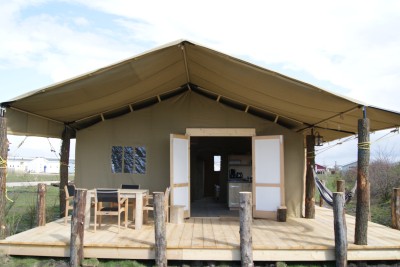 Back to basics camping with a little dash of luxury?
That's exactly what you'll experience at Holiday Park Zeeuwse Kust in Renesse. This park is home to fully furnished 5 person, 6 person and 8 person beach lodges with a bathroom with shower, wash basin and toilet. The design will vary depending on the number of people staying.
You can enjoy the beautiful evening sunshine out on the veranda, or relax away in the hammock.
Would you like to have a luxury camping experience? The book your glamping holiday at Zeeuwse Kust now!
Take a look at the Glamping possibilities in